2019 Manheim Swim Team
Important News
Volunteer sign-up will be available shortly. However, you can now sign up for social events and sign you swimmers up for meets/invitationals. Click Here to sign up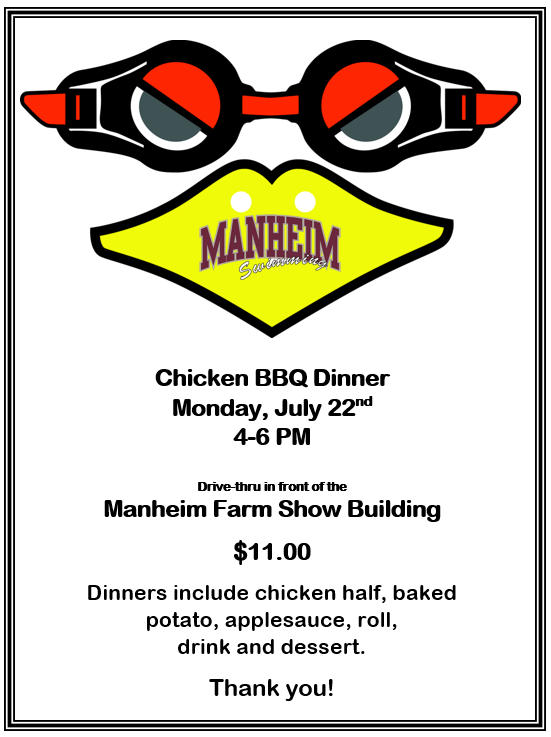 The chicken BBQ is a team fundraiser. You can only get tickets for you, but you can also get tickets to sell. Please see Kim Kirchner for tickets.       
Thank you from the Swim Board
---
1. Don't forget to sign up for volunteering, social events, meets, and invitationals. Many positions are available for volunteering…remember  that each family must accrue a total of 3 volunteering points as well as volunteer at Fast & Furious and  Leagues!
2. Swimmers should arrive to home meets by 5:15PM and at away meets by 5:30PM.  Start times subject to change. Invitational times will be posted prior to the event.
3. Reminder that payments for INVITATIONALS is due the day before the event!! If you still owe for  previous invitationals, please see Kim Kirchner.
4. Please be checking your mailboxes regularly in the team room. Awards, informational materials, and invitational envelopes are placed in them! Also check out the counter in the team room for lost and found items!!
---
---
2019 Practice Schedule
Monday, May 20 –  June 7, 2019
4:30-5:30 All swimmers 11 and older
5:15-6:00 8 & 10 unders
5:45-6:30 New Swimmers
                          No practice May 27, 2019
Wednesday, June 10 – Friday, July 26, 2019
8:15 – 9:30 AM:  U14 & Opens

9:15 – 10:30 AM:  U12 and Under
10:15 – 11:15AM:  U10 and Under
11:00 – 11:45 AM:  U8 and Under
                          No practice July 4, 2019